Best Construction Company in Bangladesh
A construction company in Bangladesh is a company that builds or repairs buildings and other structures.  Construction companies have many types of projects such as residential and commercial buildings, roads, bridges, dams, pipelines, tunnels, and other structures. A civil construction company has a variety of responsibilities, from providing labor and materials to performing management tasks. Construction companies often work with architects, engineers, and contractors to help design and build a project.  This company is responsible for all the different phases of construction, from planning and design to managing projects through completion.
Types of our construction services?
Our Ems engineering technologies in Bangladesh is one of the biggest construction companies. We provide various types of construction services. We provide a wide range of services including Residential buildings, Specialized Industrial Construction, Institutional Building, Commercial Building, Infrastructure, and Heavy Construction.
Residential Building: Ems engineering technologies are the best residential building service providers. Our residential building service can be taken for various purposes. We can take it for our own use or for commercial purposes. The benefits of our are that we provide different kinds of residential building services. 
Specialized Industrial Construction: Our specialized industrial construction service has been developed to meet the diverse needs of our clients. We have extensive experience in a wide range of building types and sizes, including, new construction, renovations, additions, and alterations. We are dedicated to providing the highest quality workmanship and customer service at a competitive price. Our project managers are experienced in coordinating subcontractors and vendors to ensure your project is delivered on time and within budget.
Institutional Building: Our Institutional Building service is one of the best services we provide. The service is used to build high-rise buildings. We use special techniques to make the buildings. The technology is advanced and we use it in our service. We also install the service and maintain it after completion.
Commercial Building: Our Commercial Building construction service is a cost effective way to construct your commercial building, in the shortest possible time. We ensure that the construction is completed on time and within budget. Our  service also provides all the required documentation and permits  to assist you with the planning of your project. We also provide you with any other assistance you may require.
Infrastructure and Heavy Construction: Our Infrastructure and Heavy Construction service is one of the best services for any construction company or contractor. It offers a lot of benefits to its clients. The best part is that it does not require you to hire a team of professionals to carry out your work. Our infrastructure and heavy construction service is the perfect solution for all those companies that are looking for an efficient and easy way to work.
What are the benefits of using our construction company in Bangladesh?
Our Construction company has gained a lot of popularity among the people in Bangladesh. The benefits of our construction company are:
Our companies provide the construction services for both residential and commercial purposes.

We provide the best services for constructing buildings and infrastructure works.

We ensure the best quality of construction services by providing the best services at the most affordable prices.

Our company will be able to provide the best quality of construction services according to the specific requirements of their clients. 

We ensure safety work in all stages of construction projects.

We provide the skilled workforce to construct various types of buildings. 
How do you choose a good construction company in bangladesh?
Choosing a good construction company is not an easy task in Bangladesh. There are many ways to choose a good construction company. You can choose a good construction company by considering their past work, experience, and reputation. A good construction company will always have a good reputation, and will also be able to provide you with a service that you can trust. The best construction company will offer you quality services at the best prices.
How Much Does Our Construction Service cost?
Our construction service is cost-effective and affordable. Our construction service cost is relatively cheap, compared to the other companies. This is because we have our own team of highly experienced and skilled employees who are not only responsible for construction services but also for the day-to-day maintenance of the properties. You can get an estimate of the cost of our construction service by sending us a message through this number +8801894-800840. We will respond to your query within 24 hours.
Areas for our construction services in Bangladesh
We are operating all over the country. We have our presence in Dhaka, Chittagong, Sylhet, Comilla, Khulna, Barisal, Rangpur and many more. We have a very good record in all over the country.
Why Choose Us ems engineering technologies for construction service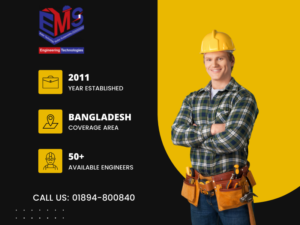 With the fast development of the construction industry in Bangladesh, it is also very important to have well-trained and skilled people. Ems engineering technologies is the best civil construction company in Bangladesh. We have been providing construction services for years and we have helped many people in the construction industry. We are one of the best companies for building and construction services. We have been providing service for the construction and development of all kinds of buildings, which includes commercial, residential, industrial, hotel, schools, colleges, hospitals, medical centers, etc.
Conclusion:
If you're looking for a construction company in Bangladesh, you've come to the right place! By reading this article, you'll learn everything you need to know about working with a reputable construction company, from start to finish. From bidding and contract negotiations to on-site work and finishing touches, we'll make sure that your project goes off without a hitch. Don't wait any longer – call for our consultation today!